The exhibition Egyptian Art Today

opened in Frankfurt am Main on March 7, 2012. This show features works by five contemporary Egyptian artists: Marwa Adel, Katherine Bakhoum, Khaled Hafez, Nermine Hamman and Ahmed Kassim, all represented by Safarkhan Gallery in Cairo (click here for the Gallery website) and its owner, Mona Saïd. I had the honour of having been invited to give a short talk about ancient Egyptian art at the opening of the exhibition; Judith Bihr spoke about modern Egyptian art.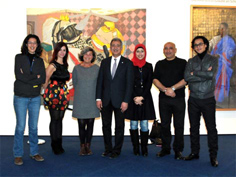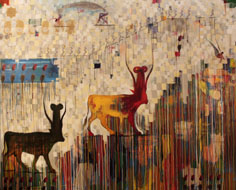 [left] The artists with Mona Saïd and Mohammad A. M. El Sawy, Head of Culture, Information and Tourism Committee of the Egyptian Parliament. Photograph Oliver Rosenwald. Copyright Semmel Concerts

[right] Khaled Hafez, Two Stockholm Hathors & one Nut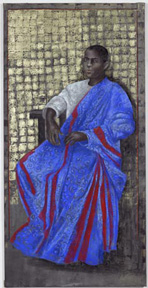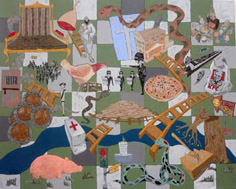 Egyptian Art Today forms part of the Festival of Egyptian Culture which is organized in conjunction with the exhibition Tutankhamun: His Tomb and His Treasures (click here for more information), and is on until June 24, 2012 The Festival of
[left] Katherine Bakhoum, L'homme en bleue
[right] Ahmed Kassem, Snake and ladder

Egyptian Culture also presents readings of contemporary Egyptian literary works, films, music and theatrical performances. It is another example of the imaginative approach to Egypt ancient and modern by the Executive Producer of the Tutankhamun exhibition, Christoph Scholz, and his team.
[left] Marwa Adel, Hiding
[right] Nermine Hamman, Umm Kolthoum

The works displayed in Egyptian Art Today are hauntingly attractive and thought-provoking and for many of us they are eye-opening. They belong to the powerful wave of modern art which appeared, or of which we became aware, following the Arab Spring. Egyptologists will be particularly intrigued by the paintings of Khaled Hafez who took inspiration for some of his works from ancient Egyptian art.
All paintings are reproduced with kind permission of Safarkhan Gallery, Cairo.